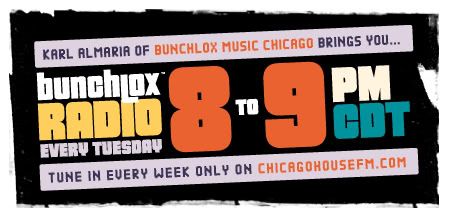 Tracklist and download for Bunchlox Radio 023.
>>>>>>>>>>>>>>>>>>>>>>>>>>>>>>>>>>>>
Bunchlox Radio 023 w/ Karl Almaria
09.22.09
Playlist (recorded live)
Isoul8 feat. Paul Randolph | On My Heart (Phil Asher Restless Soul Dub Mix) | Slip N Slide
Lou2 | Freaky (K-Dope Edit) | Strictly Rhythm
Ladgroove | Took It To Come Down (Tommy Largo Redo) | Midwest Hustle Music
Olivier Desmet | Just Like Heaven (Joshua Heath) | Amenti
The Chicago Connection | Dancin' | Cajual
Mike Huckaby | Jazz Delirium | Cross Section
Wattie Green | Hit The Road | Juiced
Midway Strangers | Tearz | *Unreleased
Jasper Street Company | A Feelin' | Basement Boys
King Britt pres Firefly ft Ursula Rucker | Supernatural (Derrick Carter's BHQ Club Mix) | Slip N Slide
Chemars | Getcha Hustle (Jeff Service Mix) | Lowercase Sounds
Delano Smith featuring Diamondancer | A Message for the DJ (Jimpster Red Light Remix) | Soulab
Jeff Haze | Elevator Dance | Midwest Hustle Music
Moodymann | Lake Shore Drive (Todd Terje Rekutt) | *Unreleased
Byron Fox | Revenge of The Cantina | Peaches
>>>>>>>>>>>>>>>>>>>>>>>>>>>>>>>>>>>>
To download:
PC: Right click on link, choose "Save Target As."
Mac: Hold down Option key, click on link.
KarlAlmaria_BunchloxRadio023_09.22.09
2 Responses to "DOWNLOAD: KarlAlmaria_BunchloxRadio023_09.22.09"